SHELL MUSUBI
Wanna know how to tie it?

I'll guide you through~~ 8DD




FIRST, You need a Maru obi.


This doesn't mean you

CAN'T

use Fukuro or Nagoya, I just haven't tried it with one yet.
If you feel you can, go for it!





Wrap the Obi around TWICE.


You need a very long tail end.





You want the short end to be about mid-back when folded over your shoulder.



Phew~~ Now:
Tie a knot. Just a plain ol' knot.
Make sure when you tie it that

the short end is on the bot

tom!
It doesn't matter if the knot is messy, it'll be covered, for the most part.



YOU NOW HAVE THE BASE OF THE MUSUBI!
Take a breather for a bit if you'd like~~

Done?
Okay!
Now on to making the top part of the "shell".




Take the LONG END, and let it hang downwards.


Hold of the top of it, and straighten it.
Here you'll begin to fold.

Basically, you want to grab the fabric about thumb<->indexfinger length, and bring it upwards, but do not overlap the prior fold.


REPEAT THIS UNTIL YOU HAVE NO MORE TO WORK WITH.


You need about 8-10 folds. (more or less if you want it simpler/fancier)

Take hold of the bottom (careful not to unravel what you just did), and either get a koshihimo, or a hairband/rubberband (or both for reinforcement).


TIE AN END WITH THESE.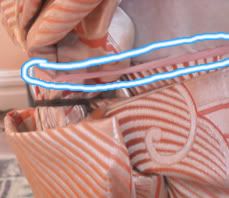 You want the hairband/rubberband to hold together the folds,
And you want the koshihimo to hold the top part of the "shell" to you so it doesn't flop around.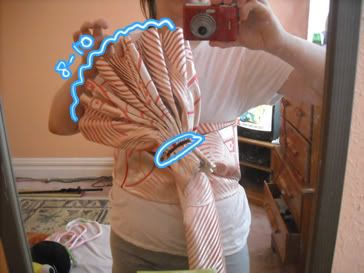 CLICK FOR A SHORT ANIMATION OF THIS STEP, SINCE IT MAY BE TRICKY TO JUST READ



You basically just made a fan ( like you do with paper) so we can "fan" it out later.


ALMOST DONE! Just a bit more!


Now to take the

short end

!


Wrap it around the bottom of the "fan" and make a somewhat trapezoid/trapezium shape.


Kind of like... a flower pot or a cup shape?
Oh heck... here's a picture.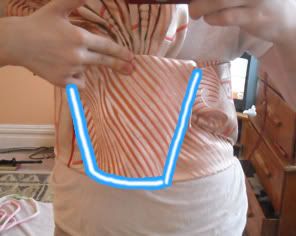 Tie your Obijime TIGHT over the middle of that shape.


Now, it should be holding the "fan" and it's base together.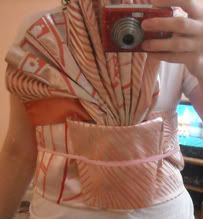 Finally, spread out your "fan" and crush the top a bit towards your body to make it a bit curved.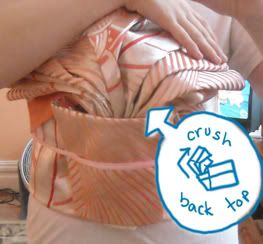 WHATWHAT




YOU'VE FINISHED!!



....Or.... I hope you did with my ugly instructions.